A special line of furniture for cleanrooms and changing rooms in controlled contamination environments is essential to combine design and functionality while meeting the required standards.
The DeltaFURNITURE range of products by Delta2000 includes cabinets and benches available in various versions, colours and finishes.

In the complex process of cleanroom design, choice of furniture that will be used inside the cleanroom is an essential factor for the project's success.
Each element must be as functional as possible in terms of containing pollutants, preventing contamination and general efficiency when work is in progress, as well as making the cleaning and maintenance of the environment itself as easy and effective as possible.
Perfectly integrated in the DeltaWALL modular panels and easily placed on a DeltaFLOOR, or able to adapt to existing structures, all furniture proposed by Delta2000 are the result of research and selection in terms of the quality of the materials, reliability over time and practicality.
From the very beginning, Delta2000 has carefully, studied the design of changing rooms and/or dressing and undressing areas creating custom and benches, to produce a fully functional environment integrated into the overall structure of the cleanroom.
DeltaFURNITURE range by Delta2000 is particularly popular in the following sectors: pharmaceutical, healthcare, medical, hospitals, biomedical, chemical, cosmetic and food.
The DeltaFURNITURE range of products: cabinets and benches
Cabinets for cleanrooms and aseptic environments to avoid cross-contamination
They are used to place and store personal valuables in controlled contamination environments.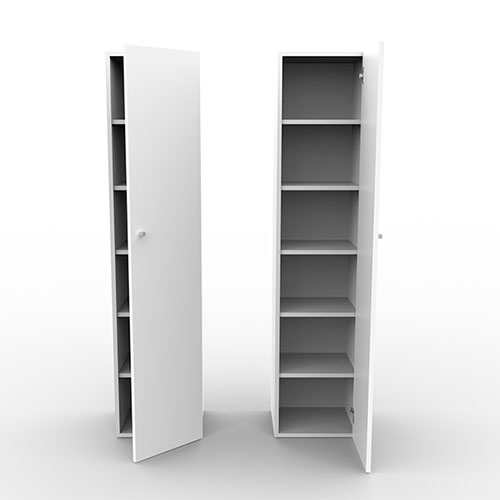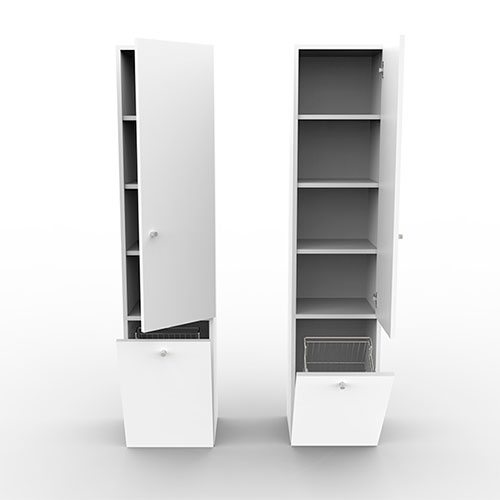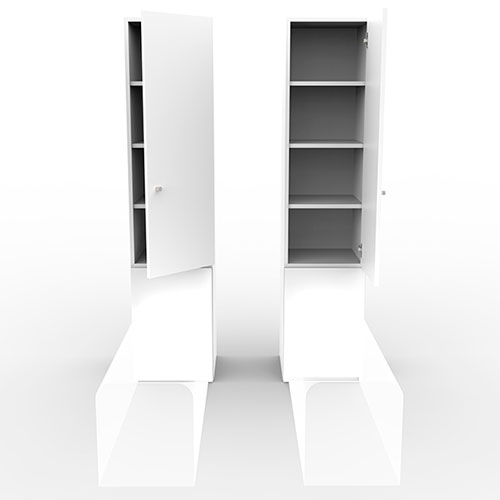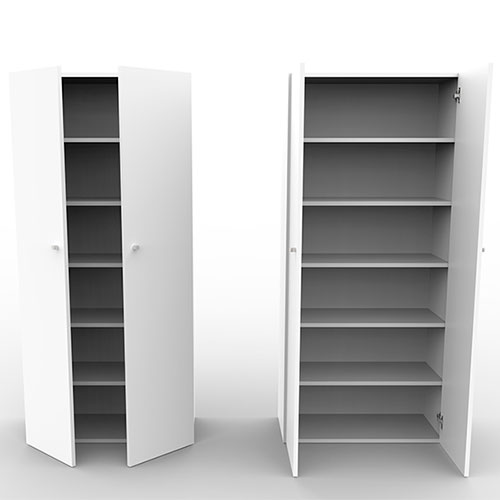 The Delta2000 cabinets are assembled and milled by hand, edged with special machines and made with durable HPL (high-pressure laminate) used for cleanrooms.
The side, upper and lower panels and the cabinet shelves are made of fireproof material with a thickness of: 20 mm or 12 mm.
When designing the cabinets it's important to take into account the spaces available. If the space is limited, it's necessary to resort to space-saving mechanisms.
For this reason, our range includes 4 different types of cabinets:
The cabinets offer various accessories and features such as:
Ventilated cabinets for hygienic purposes to keep odours outside and prevent mould from forming:

Grate on door for suction flow.
Section raised from the ground for the air flow.
 Vent at the top for air flow.

Custom fold-out cabinets with integrated basket for used clothes.
Built-in shelvesfor placing valuables: at the top and used shoes or other personal items at the bottom.
Double-sided cabinets with hooks or bars with hangers inside for hanging used clothes.
An internal divider to hang used clothes and keep them separate from sterile ones.
A selection of door knobs:

Stainless steel fixed handle with or without key
Rotating stainless steel handle with lock

 All the cabinets are designed withtilted dustproof structure.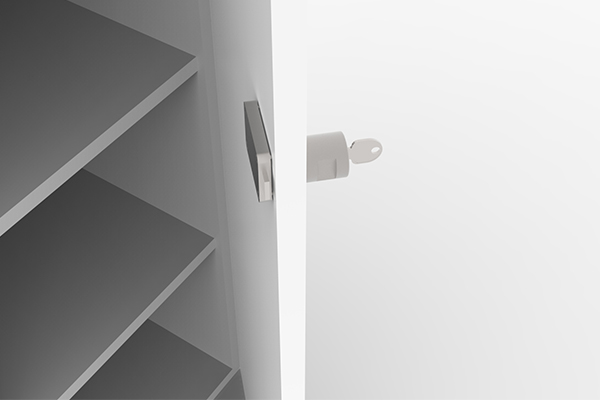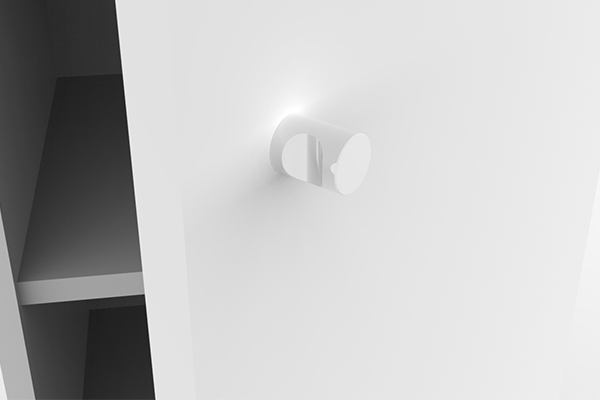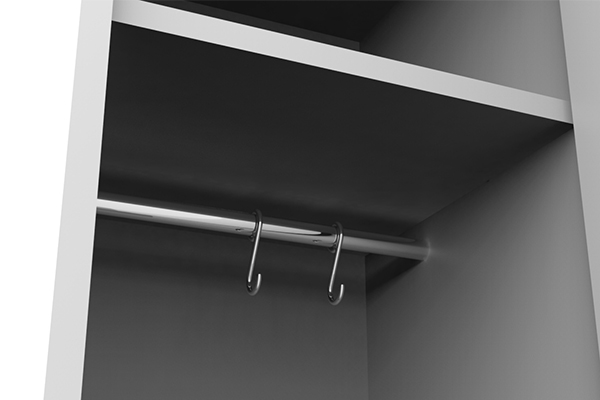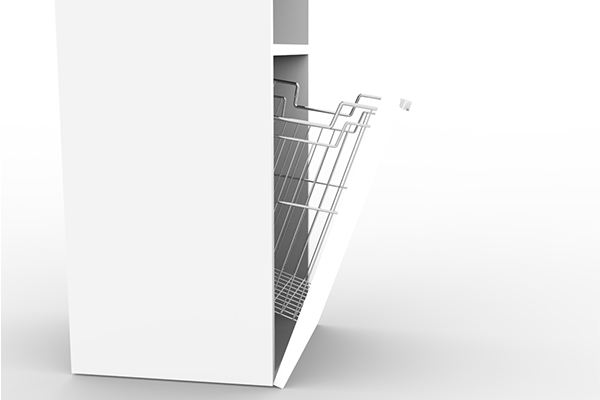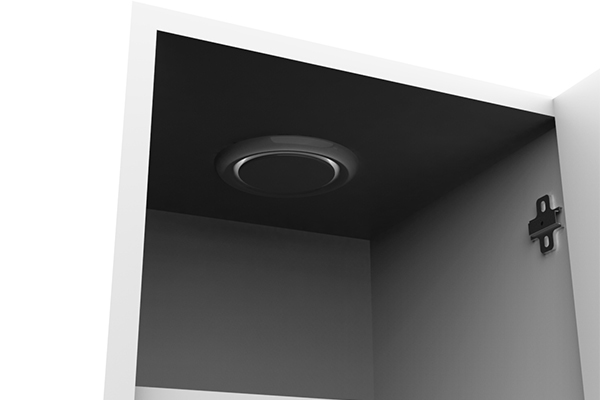 Benches and seating for sterile environments
DeltaFURNITURE benches and seating are designed to place clothing, such as protective gowns and sterile footwear, used in aseptic environments.
In addition, they provide comfortable seating for all those working in the cleanroom.
By storing clothes and shoes inside them, we can avoid problematic contamination in the sterile environments.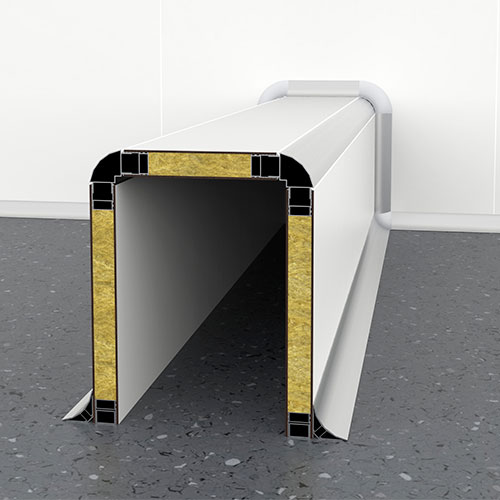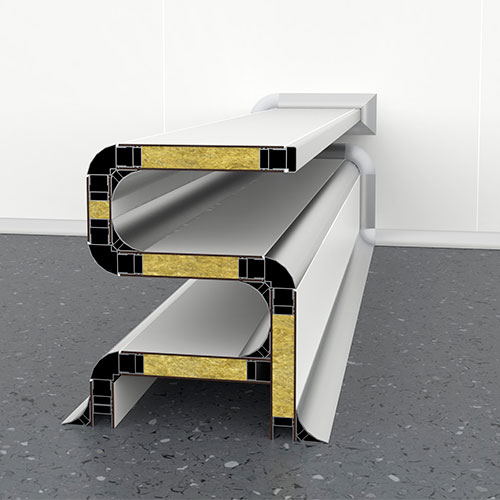 Delta 2000 offers two types of benches:
U-shaped benches
S-shaped benches
Custom made with layered HPL panels and rounded corners in extruded aluminium, and finishes of your choice.
The benches, positioned in the centre of the room, separate the dressing room, thus dividing the areas.
Both the "U" and the "S" benches can be used as seating.
The difference between the "U" bench and the "S" bench is that the latter can store used footwear on one side and uncontaminated shoes on the other side.
All the products of the DeltaFURNITURE range are certified according to applicable laws.
Our clients have the guarantee of certified quality materials used in the production of our cleanrooms and this is what makes the Delta2000 products recognised and loved worldwide.
Our certificates:
ASTM E84-18b,
EN 13501-1:2007+A1:2009,
EN 438-4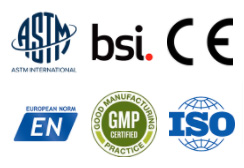 Customising DeltaFURNITURE cabinets and benches for cleanrooms
One of our greatest strengths is the ability to customise the cabinets and benches according to the preferences and needs of each client. Our furniture can be ordered in a range of different colours:
Standard colours

: 405 White Porcelain, 854 Bleu Silver, ABET 406 SPRING WHITE, Sand 414

Non-standard colours: 1819 Monviso Grey, 1822 Cavallino Red, 1823 Maquis Green, 1824 Blue Amorgos, 1832 Storm Grey, 412 Ivory, 421 Black, 427 Magenta, 469 African Yellow, 859 Faenza Blue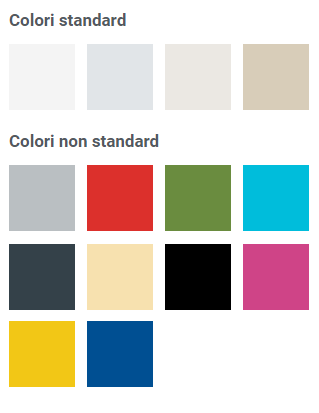 High quality standards and speedy delivery
The furniture in the DeltaFURNITURE range by Delta2000 is the best solution for personnel working in all environments where hygiene and sterilisation are primary requirements.
Excellent for ensuring a tidy, organised but above all uncontaminated work environment.
All Delta2000 products are customizable and designed, assembled and  optimised on-site, without the need for third parties.
By following each stage directly, we can guarantee high quality standards and speedy delivery.
Are you interested in receiving information about our products
Fill out the form and our Sales Team will be in touch as soon as possible.