Delta2000 offers consulting, design, implementation and management of cleanrooms for all companies that need to be protected from exogenous and endogenous sources of pollution
The result? All Inn cleanroom solutions that guarantee the highest performance and safety levels
Within a complex process such as the design of a cleanroom, an essential factor in the success of the project is also the choice of furniture and all the components that will be applied inside.
Each element must, in fact, be as functional as possible in containing airborne particles, preventing contamination of the work and general efficiency in the operational phase, as well as making cleaning and maintenance of the environment as easy and effective as possible.
Let us see, in detail, the wide range of cleanroom solutions designed and manufactured by Delta2000.
DeltaWALL: modular cleanroom walls and panels
The DeltaWALL range has 4 product families. 3 of these, HPL, ALUMINUM and STEEL are characterised by the different external finish that gives the product its name and by 3 different insulators: polystyrene, aluminium and rock wool.
The fourth family, GLAZED, is made up of glass walls that guarantee maximum transparency and flexibility of use, thanks to their unique and innovative design.
All products in the DeltaWALL range are certified according to current standards: ASTM E84-18b, EN 13501-1:2007+A1:2009, EN 438-4.
One of our strengths is the customisation of the walls and modular panels, which can be customised according to each customer's requests and requirements. Our walls can, in fact, be requested in a different range of sizes and colours.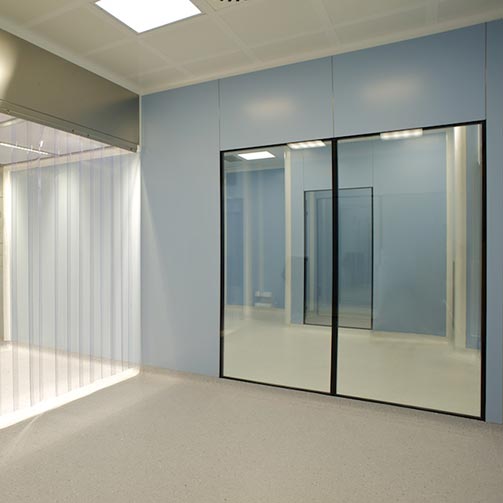 DeltaCEILING: ceilings for clean rooms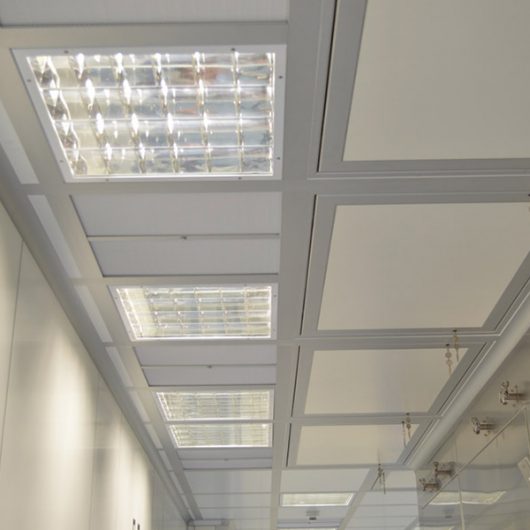 Two product families are part of the DeltaCEILING range: OMEGA ceilings and WALKABLE ceilings.
These are flexible modular ceilings for sterile, contamination-controlled environments. They consist of a flat surface with a light structure, placed below the ceiling, which results in a reduction in the useful height of the room concerned.
These false ceilings are made to meet aesthetic requirements, to provide a covering with thermal insulating, soundproofing or fire resistant material, and are also used to house, in the space created between the ceiling and the ceiling, one or more systems.
The false ceilings in Delta2000's DeltaCEILING range are all customisable and designed, assembled and finished in-house, without the support of third parties.
DeltaDOORS: doors for cleanrooms
The door of a clean room plays a primary role in hygiene. As a transition point between the external and internal, aseptic environment, the door must be designed to avoid contamination and maintain adequate atmospheric pressure.
The doors in the DeltaDoors range are designed to allow passage into sterile environments while avoiding contamination with the outside. Their effectiveness is attested by international certifications EN ISO, GMP, ASTM, CE, BSI.
A further advantage, which differentiates DeltaDoorsTM , is the possibility of customised fixtures from both a technical and aesthetic point of view. This availability of choice allows you to create environments that are true to the cleanroom design phase.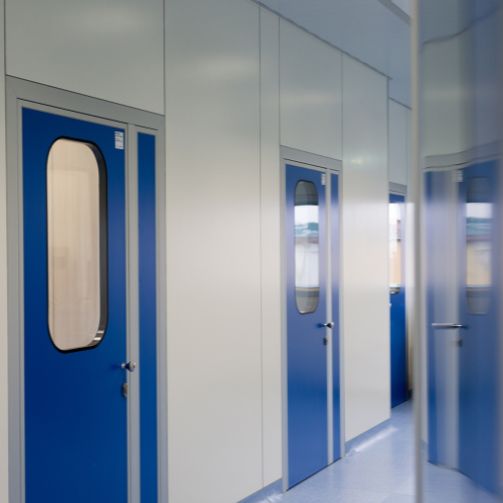 DeltaFURNITURES: clean room furniture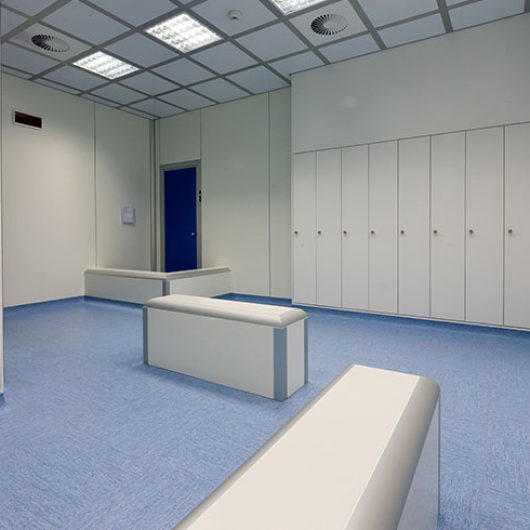 A specific line of furniture for clean rooms, for changing rooms in contamination-controlled environments, is indispensable in order to combine design and functionality in compliance with the required standards.
Comprising the Delta2000 DeltaFURNITURES range are lockers and benches available in various versions, colours and finishes.
The furniture in the Delta2000 DeltaFURNITURES range is the best solution for personnel working in all those environments where hygiene and sterilisation are primary requirements.
Excellent for guaranteeing a tidy, organised but above all uncontaminated working environment.
DeltaFLOORS: floors for clean rooms and sterile environments
The Delta2000 DeltaFLOORS family offers different solutions according to specific project needs: heterogeneous PVC and epoxy resin flooring. Both types of flooring are excellently suited to the Delta2000 modular wall panels, guaranteeing not only high standards of safety but also of aesthetics thanks to elegant and complete finishes.
All products offered by Delta2000, meet the requirements of ISO and GMP standards and reduce the risk of contamination by volatile particles, which would compromise production.
The floor solutions predominantly used in our projects to complete the cleanroom can be PVC or epoxy resin.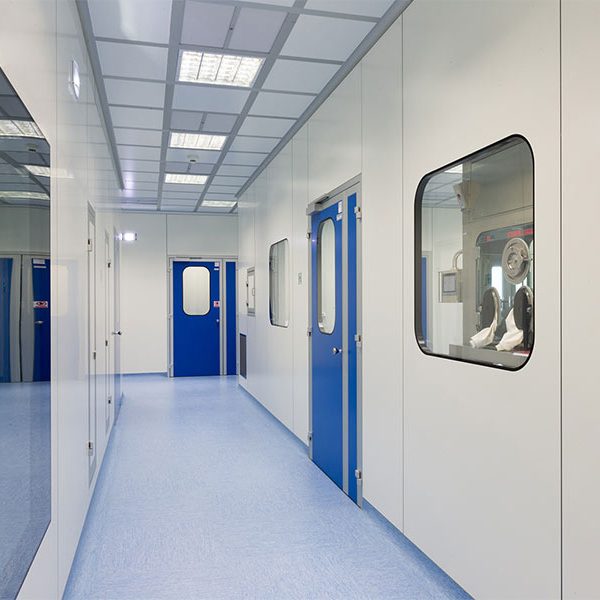 DeltaWINDOWS: the glass walls for clean rooms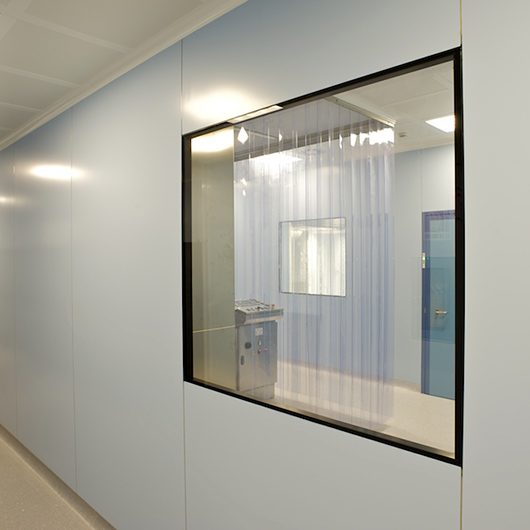 Increasingly, architects and managers favour the choice for a light and sterile working environment, especially when it comes to controlled contamination environments.
Our sterile environment windows are the ideal solution to meet this need.
That is why we have included the DeltaWINDOWS glazed partition lines in our product range, which are suitable for every design requirement.
The glass elements for clean rooms, used by our company, are composed of safety-certified glass with different compositions depending on certain factors such as, glass thickness and dimensions.
DeltaPROFILE: profiles and accessories for ceilings, doors and cleanroom floors
To complement our professional cleanrooms, we can design and supply a wide range of profiles and finishes that will make each project unique and high-performance.
DeltaPROFILE aluminium profiles and accessories are designed for use in contamination-controlled areas and are intended for multiple sectors: Pharmaceutical, Biomedical, Chemical, Cosmetic and Food.
Not forgetting the structured designs for the hospital sector.
The corner joints between the walls are made with a system of the company's own design, so that corners and steps are eliminated.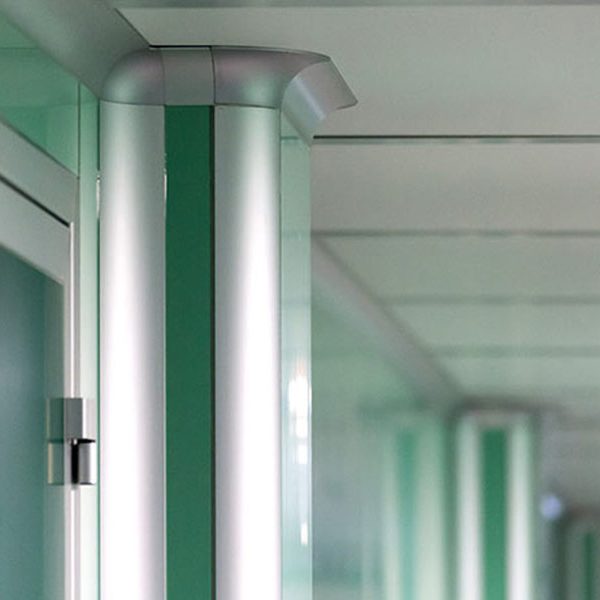 Rely on Delta2000 when choosing your All Inn solution for clean rooms and sterile environments.
Certified solutions, quality and adherence to project deadlines, to meet every customer need.
Are you interested in receiving information about our products?
Fill out the form and our Sales Team will be in touch as soon as possible.