Discover the DeltaCEILING range of ceilings and suspended ceilings by Delta2000 for controlled contamination and sterile environments, like cleanrooms.

The ceilings from the DeltaCEILING
range by Delta2000
are particularly suitable and recommended for rooms that must be air-tight. This is an especially important feature for
operating rooms
,
cleanrooms
or
sterile rooms
for chemical-biological analysis laboratories or environments where
food
,
cosmetics
,
pharmaceuticals
,
electronics
etc. are processed. Air-tightness is achieved through the perfect adhesion of the upper part of the panels to the lower layer of the support structure thanks to an elastic seal that makes it unnecessary to use additional sealants (silicone, etc.).
The DeltaCEILING range of products: OMEGA and WALKABLE
DeltaCEILING OMEGA ceilings
These are flexible modular ceilings for controlled contamination and sterile environments. They are made of a light-weight structure with a flat surface placed below the actual ceiling that decreases the usable height of the room in question. These ceilings were created to fulfil aesthetic needs, or as a coating with insulating, soundproofing or fire-resistant material, and are also used to store one or more units in the space between the ceilings.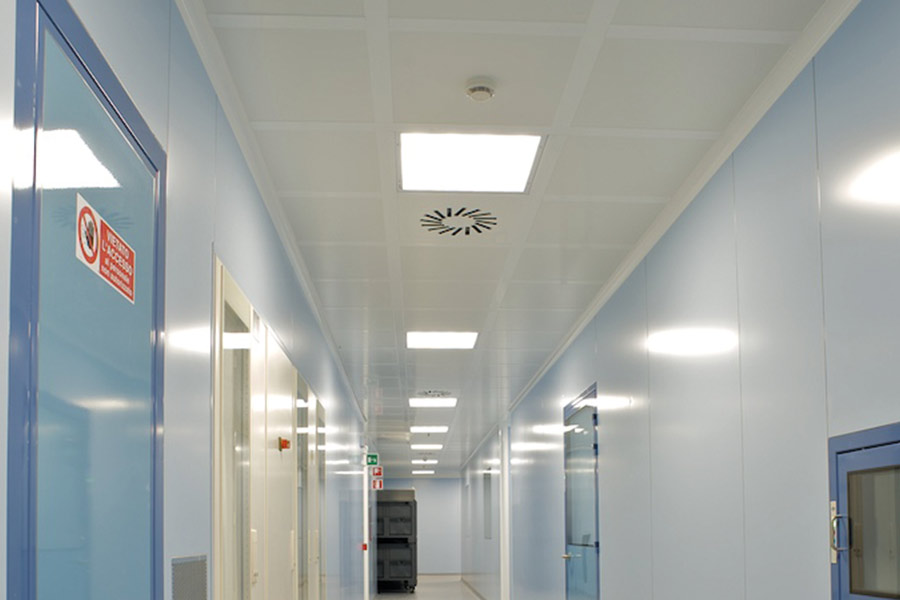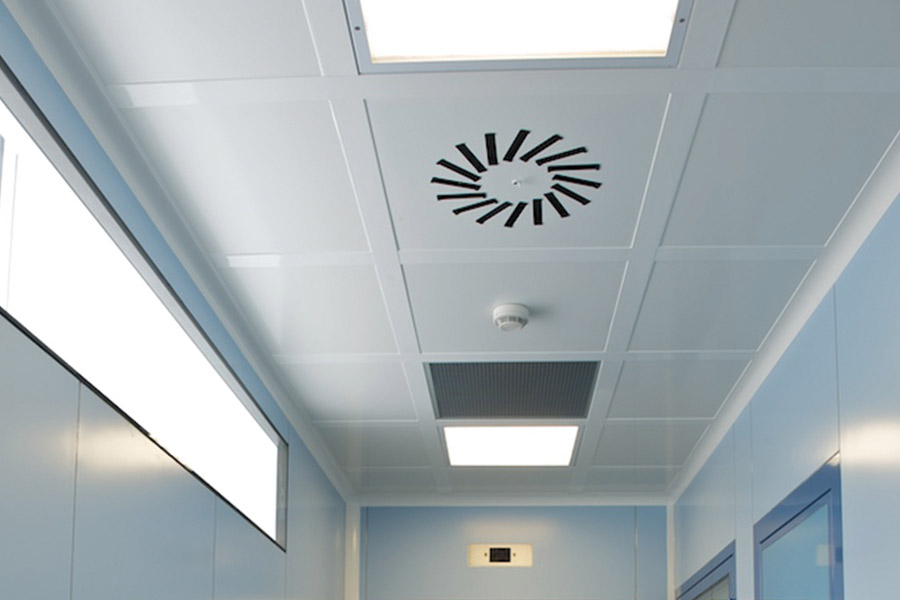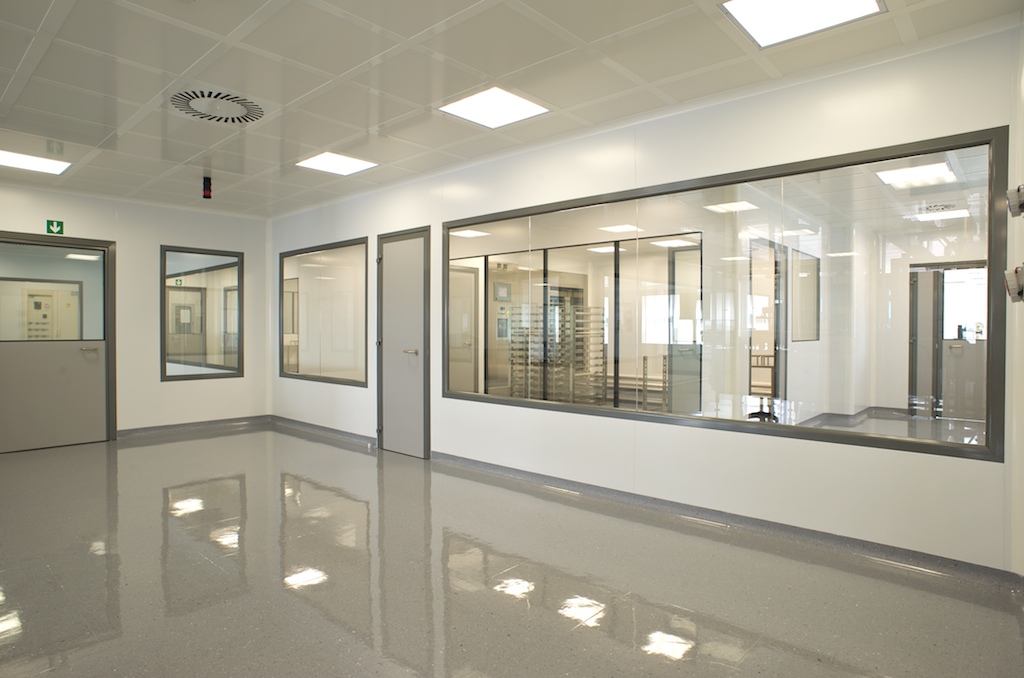 The cleanroom ceilings from the OMEGA DeltaCeiling range produced by Delta2000, are made from an omega frame, with a visible 65 mm profile in extruded anodized and/or pre-painted aluminium with infill panels for cleanrooms.
All the materials used are certified according to applicable laws.
The
Omega ceilings
can be produced in different ways:
DeltaCEILING WALKABLE ceilings
These are walkable ceilings for cleanrooms and sterile environments, with a hidden aluminium structure in the panels. They can be connected by means of special galvanized steel threaded rods and hangers, designed according to the pre-existing structure. Delta 2000 designs 3 types of WALKABLE ceilings:
HPL WALKABLE DeltaCEILING™
Cleanroom HPL DeltaCEILING™
. Its resistance to most chemical agents makes it ideal for controlled contamination environments, where cleaning operations include weekly or daily cycles of sanitization. The
HPL DeltaCEILING high pressure laminate panel
has between six and eight compacted layers of Kraft paper, impregnated with thermosetting resins. It's finished with special decorative paper featuring a particular pattern or a solid colour. The layers are compacted to create a highly durable surface. Dense, hard, durable, easy to clean and requiring little maintenance.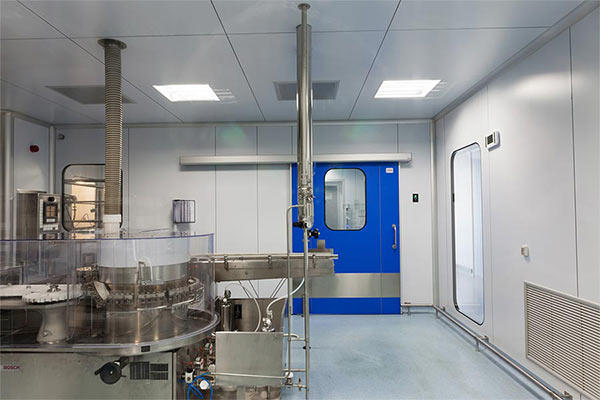 WALKABLE ALLUMINIUM DeltaCEILING™
Cleanroom ALUMINIUM DeltaCEILING™
are aluminium modular panels used to make cleanrooms. They can be used for walls, ceilings, doors and floors. The aluminium modular WALKABLE DeltaCEILING panels are defined by a wide range of features and advantages that make them ideal for cleanrooms. The benefits include:
Fire and heat resistant
Corrosion resistant
Rigidity
Humidity resistant
WALKABLE STEEL DeltaCEILING™
Cleanroom STEEL DeltaCEILING™
. Galvanized Steel Panels used to make cleanrooms. They can be used for walls, ceilings, doors and floors. The STEEL modular panel in galvanized steel is assembled using two sheets of steel, gauge 7/10, fixed to a frame in extruded aluminium with four sides. Defined by a wide range of features and advantages that make them ideal for cleanrooms.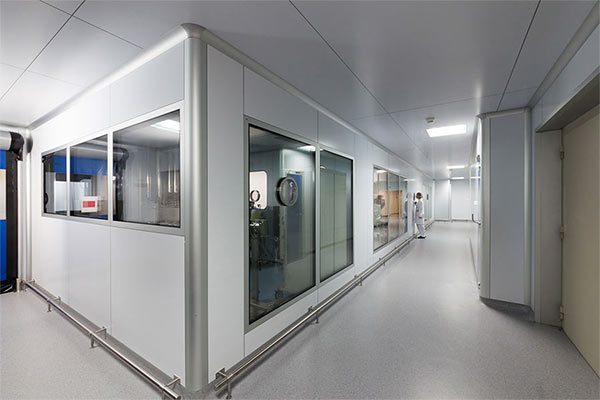 The insulation for the WALKABLE DeltaCEILING™ is available in: polystyrene, rockwool, honeycomb
All ceilings in the WALKABLE DeltaCEILING range consist of
panels
with an internal aluminium frame, insulated as required with:
high density rockwool
polystyrene
honeycomb insulation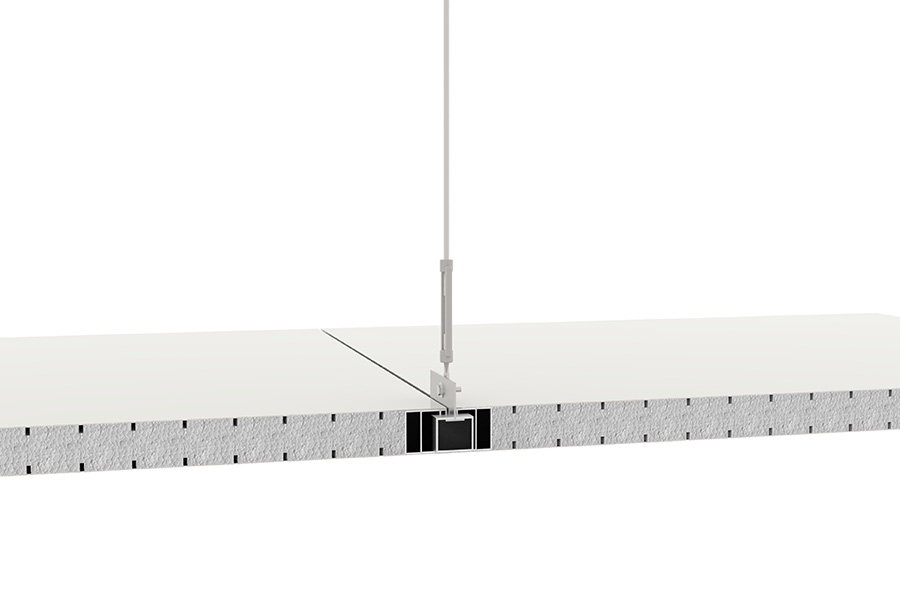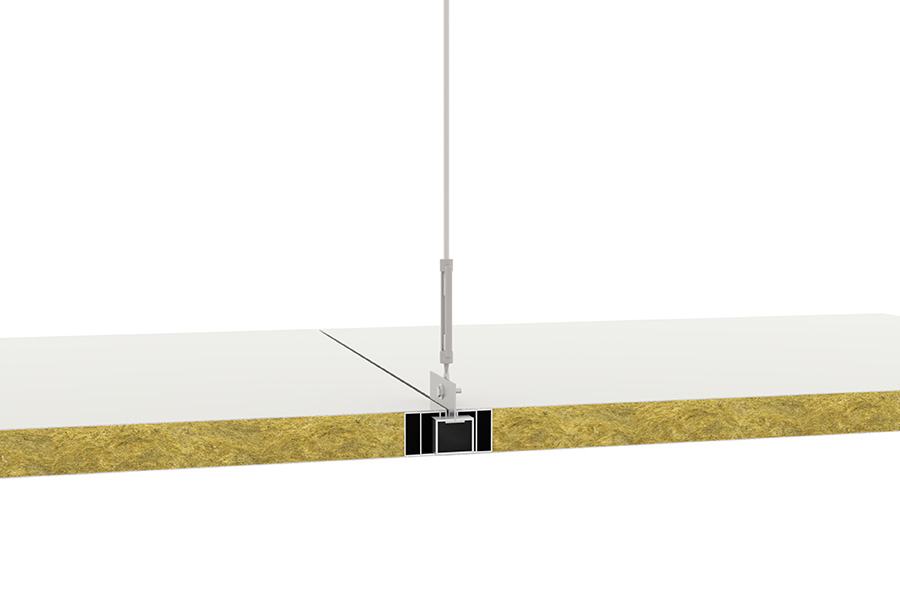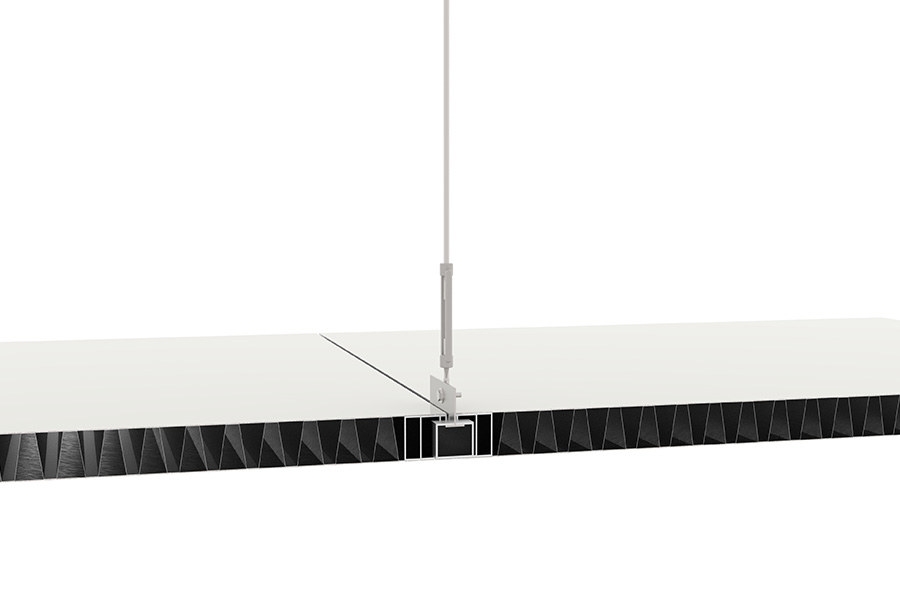 Some of our cleanroom ceiling projects: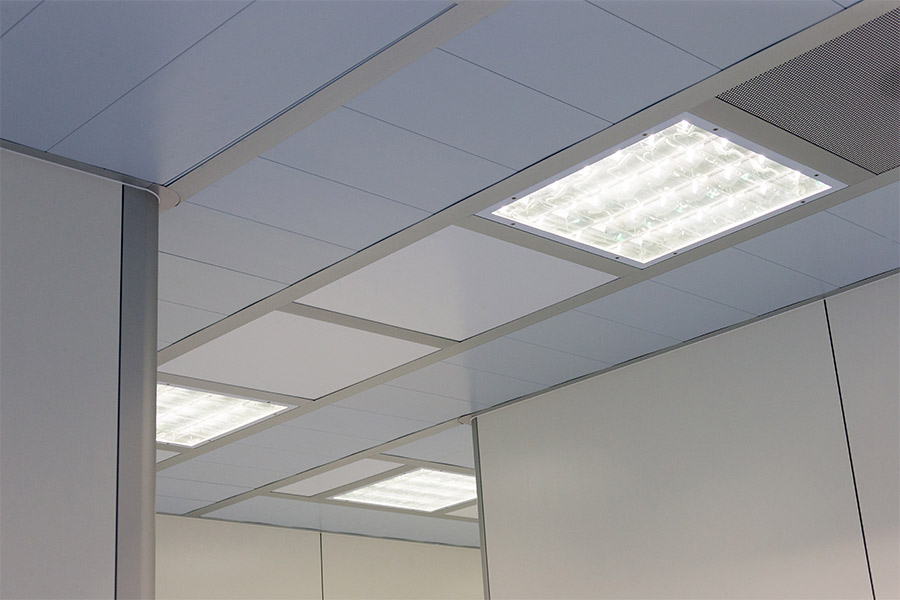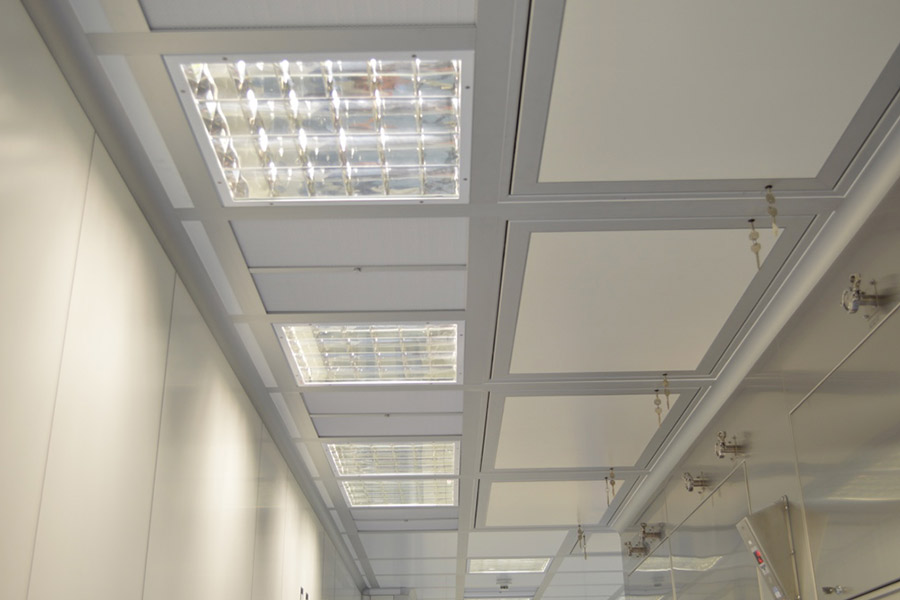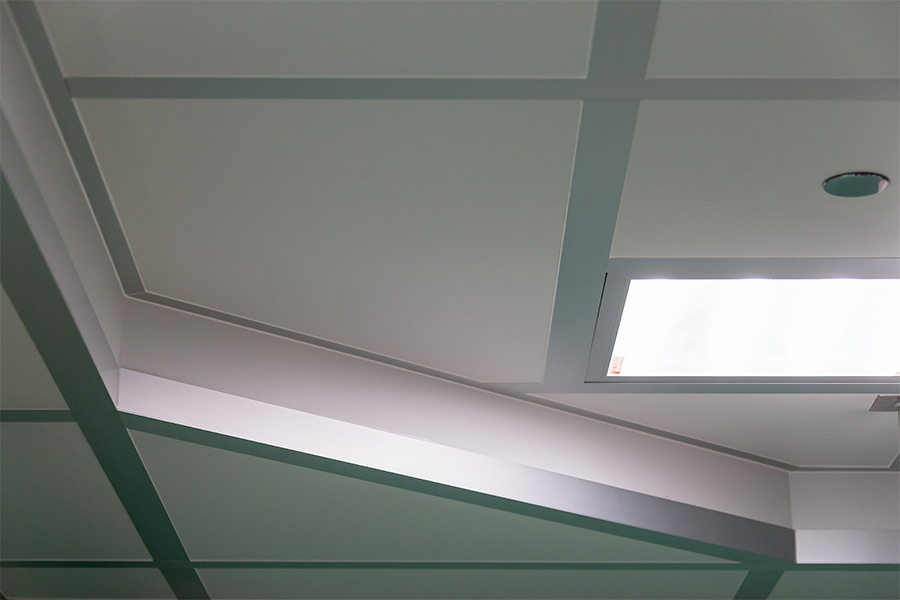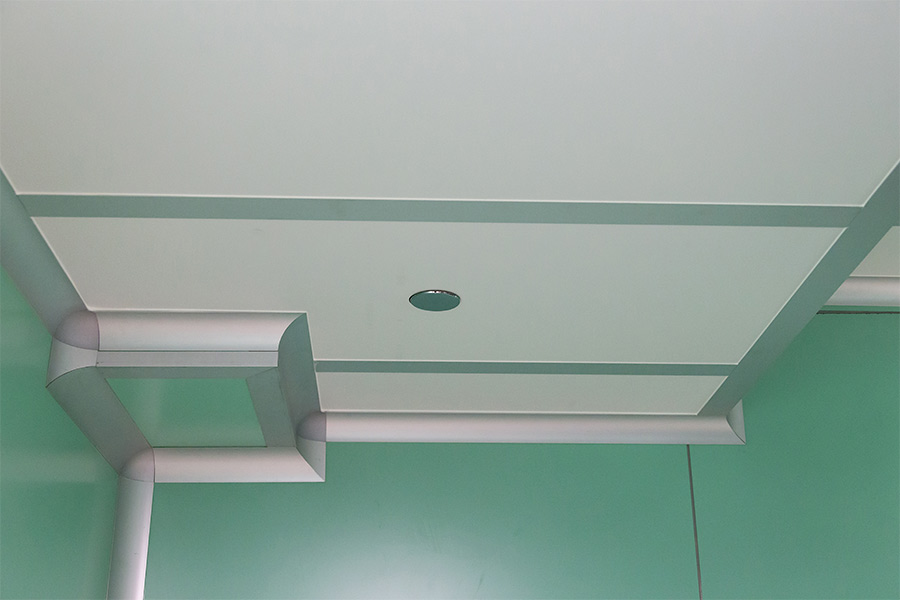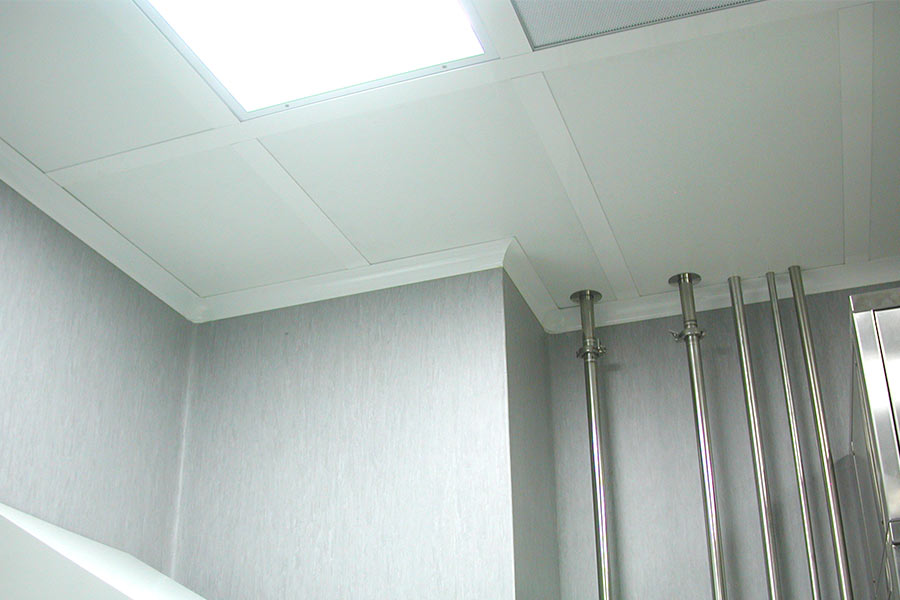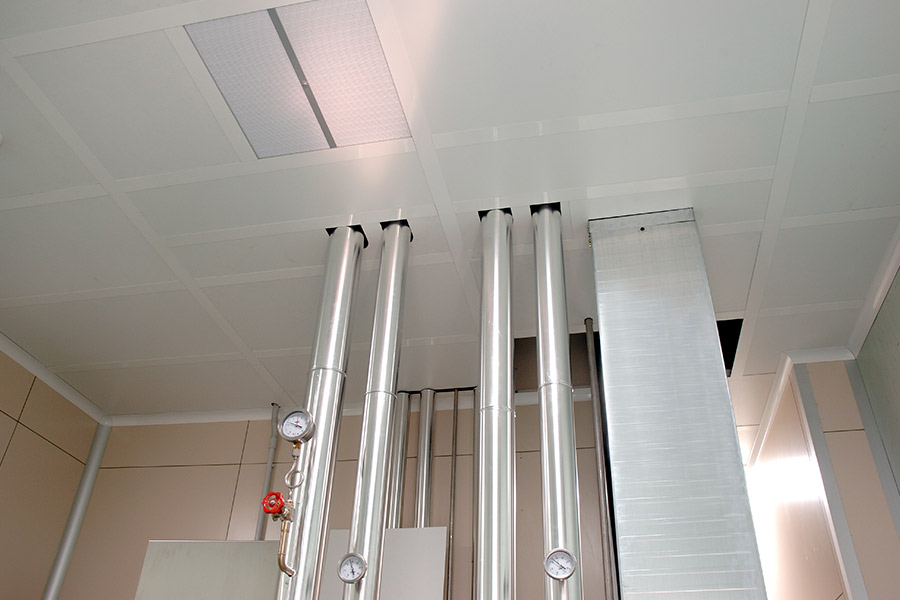 High quality standards and speedy delivery
The ceilings in the DeltaCEILING range by Delta2000 are the best solution for personnel working in any environment in which hygiene and sterilisation are primary requirements. Excellent for ensuring an uncontaminated work environment. All Delta2000 products are customizable and designed, assembled and optimised on-site, without the need for third parties. By following each stage directly, we can guarantee high quality standards and speedy delivery.
Are you interested in receiving information about our products? Fill out the form and our Sales Team will be in touch as soon as possible.