Delta2000 is the answer to any Design & Build project requiring modular walls and panels for cleanrooms.
Discover the range of DeltaWALL products designed for cleanrooms, free from contamination.

A cleanroom is a controlled environment in which the concentration of particles in the air and sub-micronic contamination are kept within specific limits to allow the production of particular products.
Delta2000 is the leading partner internationally for the design and production of walls for cleanrooms installed all over the world.
All DeltaWALL products are designed and manufactured following rigorous protocols and methods, and target several industries: pharmaceutical, chemical, medical, electronic, food, cosmetic, architectural and other critical production environments, such as hospitals.
Delta2000 guarantees outstanding quality and professionalism.
Index:
The DeltaWALL range of products.
The DeltaWALL range includes 4 groups of products, 3 of these, HPL, ALUMINUM and STEEL, are characterised by the external finish that gives the product its name and by 3 different types of insulation: polystyrene, aluminium and rockwool.
The forth group,
GLAZED
, consists of
glass walls
that guarantee maximum transparency and versatility of use, thanks to their unique and innovative design.
1. The HPL DeltaWALL range of products
Layered HPL is a material mainly used for internal areas, subject to specific environmental conditions. It's generally not recommended for external use.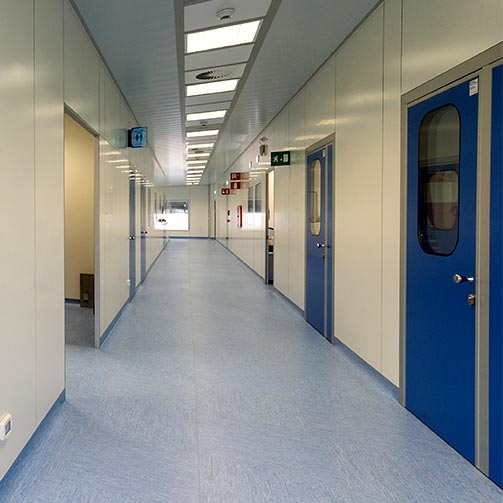 Internally it is made with one or more layers of cellulose fibres, impregnated in phenolic resins.
On the other hand, the surface consists of one or more layers of cellulose fibres with an aesthetic function, impregnated with thermosetting resins.
The advantages of high pressure laminate:
Customizable
Resistant to bumps and scratches
Available in a wide range of colours
Available in a wide range of thicknesses
Quick and easy maintenance.
2. The ALUMINUM DeltaWALL range of products
The aluminium modular panels are defined by a wide range of features and advantages that make them ideal for cleanrooms.
The benefits include:
Fire and heat resistant
Corrosion resistant
Rigidity
Humidity resistant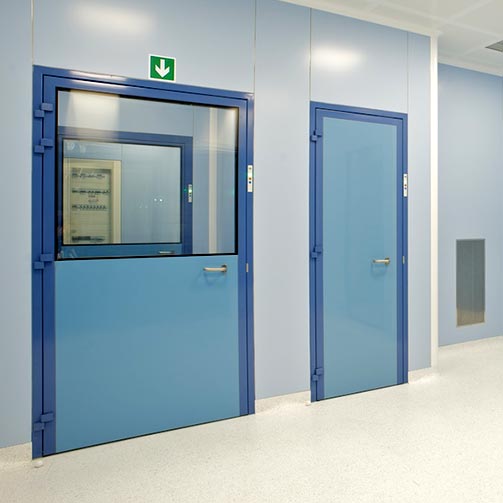 3. The STEEL DeltaWALL range of products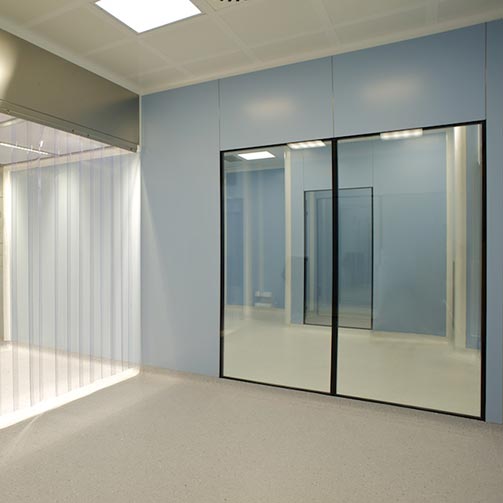 The modular panel in galvanized steel is assembled using two sheets of steel, gauge 7/10, fixed to a frame in extruded aluminium with four sides.
Based on the project requirements, the following insulating materials can be placed between the sheets:
Self-extinguishing polystyrene (Euro class E)
High density rockwool
Corrugated iron
Defined by a wide range of features and advantages that make them ideal for cleanrooms, the STEEL DeltaWALL products stand out for several reasons including:
Fire and heat resistant
Corrosion resistant
Rigidity
Lightness
4. The GLAZED DeltaWALL range of products
Delta2000 has created GLAZED DeltaWALL, a range of modular glass walls, especially designed for cleanrooms.
The GLAZED DeltaWALL range includes 3 different collections.
1. The CLEAN collection featuring:
Coplanar integration of the components, with walls and doors having the same width of 48 mm
Anti-accident thermopane windows composed as follows 3+3/36/3+3.
2. The LIGHT collection characterised by a light and attractive designs. Ideal for creating large glass surfaces without interruption thanks to the installation of thermopane 6+6 glass elements on an extruded aluminium support.
3. The glass wall structure with a 55mm profile allows the insertion of glass surfaces inside the wall module, thanks to the adaptable nodal.
The GLASS DeltaWALL™ collections CLEAN and LIGHT stand out for their easy fitting, installation and maintenance.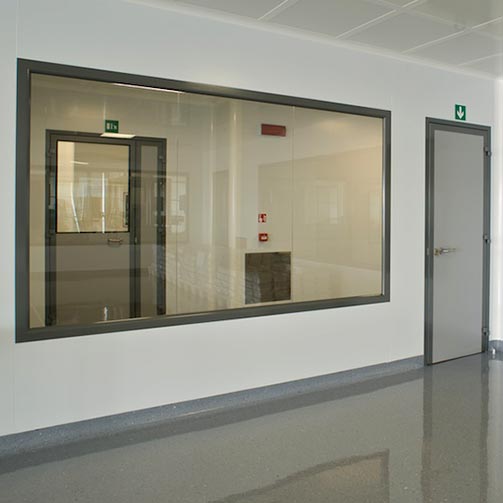 All the products of the DeltaWALL range are certified according to applicable laws.
The guarantee ofquality certification of all the materials we use in the production of our cleanrooms, ensure that Delta2000 products are recognised and loved worldwide.
Our certificates:
ASTM E84-18b,
EN 13501-1:2007+A1:2009,
EN 438-4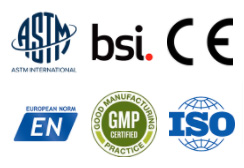 The customizable aspect of our DeltaWALL modular walls and panels for cleanrooms
One of our greatest strengths is the ability to customise the modular walls and panels according to the preferences and needs of each client.
For instance, our walls can be ordered in a range of different colours:
Standard colours: 405 White Porcelain, 854 Bleu Silver, ABET 406 SPRING WHITE, Sand 414
Non-standard colours: 1819 Monviso Grey, 1822 Cavallino Red, 1823 Maquis Green, 1824 Blue Amorgos, 1832 Storm Grey, 412 Ivory, 421 Black, 427 Magenta, 469 African Yellow, 859 Faenza Blue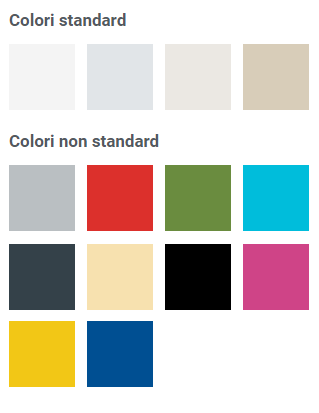 The main technical specifications of the DeltaWALL products
The Delta2000 modular walls feature:
Inner frame in 2 mm thick raw extruded aluminium with Polystyrene, Rockwool or Honeycomb insulation
External coating in 12/10 aluminium sheet with a total panel thickness of 48 mm<
Vertical H-shaped aluminium extrusion bar (2 mm thick) to mount the panels together, with a maximum width of 4 mm between the panels.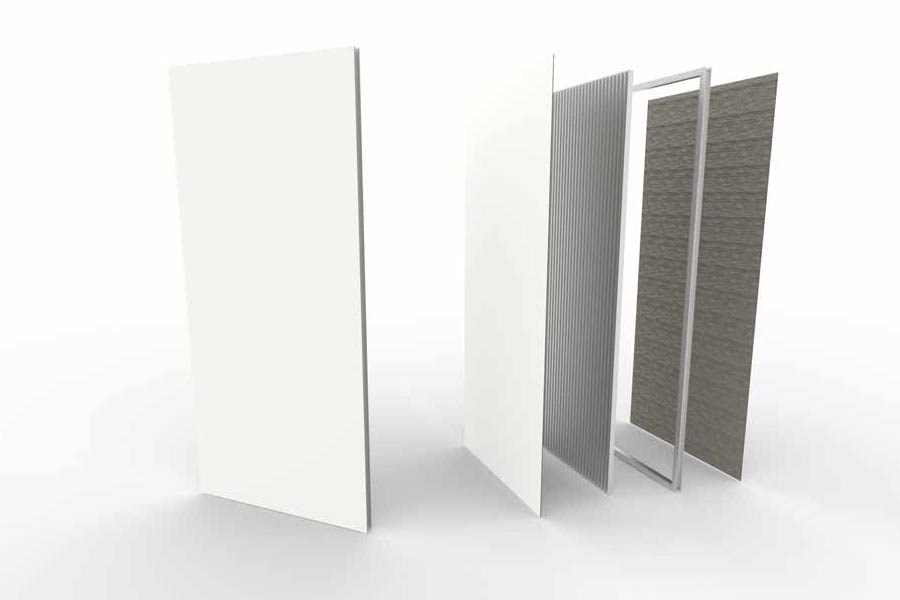 To guarantee the best result in terms of aesthetics, insulation and functionality, the DeltaWALL modular walls are fixed with silicone and raw aluminium profiles to the existing floor.
The surfaces have outstanding technical specifications:
High insulation power
Stability over time
Water vapour permeability
Water resistant
Mold and bacteria resistant
Excellent sound-absorbing properties
Long-term performance
Do not deteriorate over time
Allow moisture to escape thanks to the composition
The insulation used for DeltaWALL products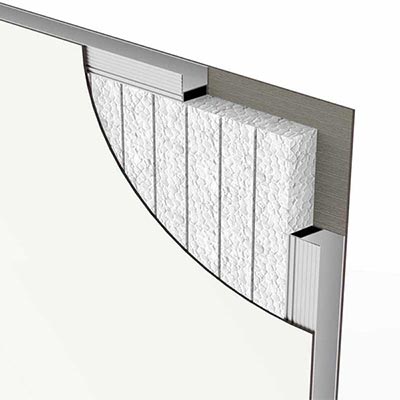 Polystyrene
Sintered expanded polystyrene (EPS) sheets.
Density 35 Kg/m3, fire reaction class E (EN 13501-1), declared thermal conductivity (λ) 0.033 W/mK (EN 12667 or 13163)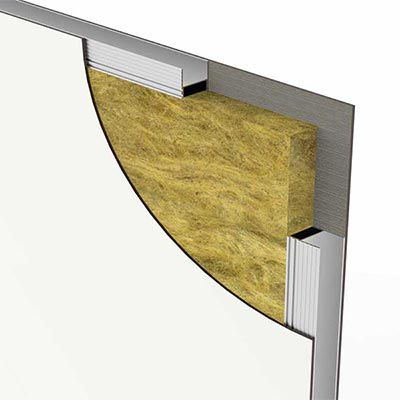 Rockwool
Sheets of fireproof rockwool with vertical fibres relative to the plane.
Density 100 Kg/m3, fire reaction class E (EN 13501-1), declared thermal conductivity (λ) 0.037 W/mK (EN 12667 or 14303)
ROCKWOOL offers a range of solutions to meet the insulation requirements of all kinds of interior and exterior walls.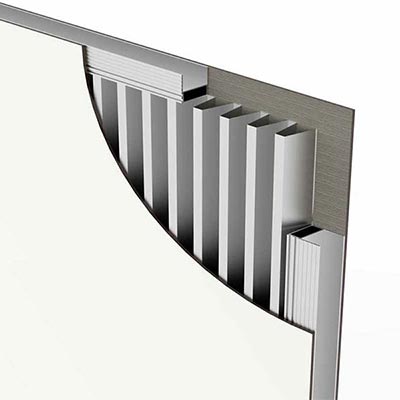 Honeycomb
Fireproof aluminium honeycomb sheets, composed of hexagonal cells with a diameter of 12 mm made of aluminium alloy 3003.
Density 35 Kg/m3, fire reaction class E (EN 13501-1), declared thermal conductivity (λ) 0.026 W/mK (still air) 0.026 W/mK (still air).
From a technical point of view, Delta2000 consistently invests in research and development to implement and expand the already extensive range of products.
We wish to offer Customers multiple integrated solutions that meet their specific technical requirements.
In the coming years, the goal is to distinguish ourselves more and more in the target market, for the unique and fine details that characterise our products.
With regard to our Business Strategy, Delta2000 is improving its position on the national market and further intensifying its presence and influence in certain foreign markets.
The Company growth will be aided by the creation of new technical, commercial and organizational synergies.
Are you interested in receiving information about our products?
Fill out the form and our Sales Team will be in touch as soon as possible.