Delta2000 offers a complete supply and installation service of flooring for cleanrooms and controlled contamination environments.
Discover the DeltaFLOOR range of products designed for cleanrooms, free from contamination.

We offer different solutions based on the specific requirements of the project: heterogeneous PVC and epoxy resin flooring. Both types of flooring are perfectly adapted to Delta2000 modular wall panels, guaranteeing high standards of safety as well as aesthetics thanks to the elegant finishes.
All products offered by Delta2000 meet the requirements dictated by ISO standards and GMP standards, reducing the risk of contamination by volatile particles, which would compromise production.
The main floor solutions used in our cleanroom projects can be in: PVC or epoxy resin.
All DeltaFLOOR products are designed and manufactured following rigorous protocols and methods, and target several industries: pharmaceutical, chemical, medical, electronic, food, cosmetic, architectural and other critical production environments, such as hospitals.
Those who are familiar with the problems related to creating floors for cleanrooms, know that nothing can be left to chance, from the early design stages.
Cleanrooms: advantages and solutions of PVC floors.

DeltaFLOOR PVC flooring produced by Delta2000 is also known as PVC heterogeneous vinyl floors.
Vinyl floors are part of the resilient flooring family. The term comes from the Latin 'resilientem', meaning that which bounces. Resilience is in fact an index of a material's resistance to deformation by dynamic stress and is determined through an impact test.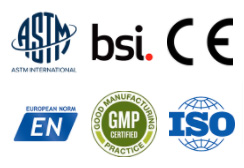 Characteristics of PVC floors produced by Delta2000
The main features that distinguish PVC floors are:
hygienic, thanks to antistatic and antimicrobial qualities that prevent the growth of bacteria.
perfect weldability,
anti-slip surface
no danger to the user's health,
high wear-resistance,
low footprint
waterproof,
excellent dimensional stability and fire resistance.
Compared to other materials, the maintenance costs are lower, the treading sound is low, and the material has excellent resistance to chemicals, oils and grease.
PVC flooring and their versatility
Due to their nature, composition and production technology, Delta2000 PVC floors are extremely versatile: choose the most suitable one from a wide range of products, depending on the performance you require.
To get an idea of the hugely wide range of options there are, consider how many categories they can be divided into, based on the various parameters:
structure (they can be homogeneous or heterogeneous),
electrical behaviour (it can be standard, antistatic and conductive),
physical shape (rolls or tiles)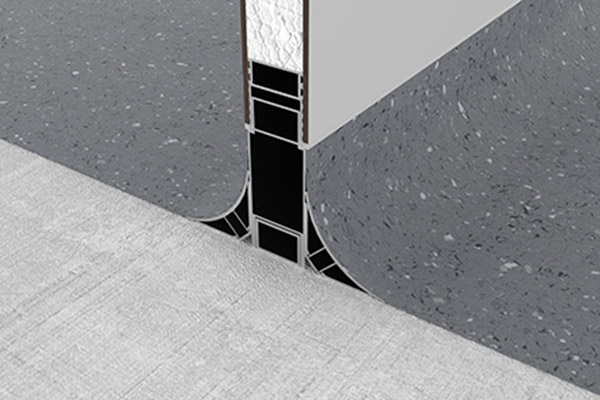 Other factors can vary too such as the thickness (usually 2, 2.5 and 3 millimetres), the manufacturing process (they can be calendered, pressed or press-calendered), the non-slip characteristics (good in standard materials and excellent in those designed specifically to emphasize this property), and the surface can be treated or not.
Even from an aesthetic point of view, there is a large variety which allows you to find the most suitable solutions for each environment and desired effect.
In short, Delta2000 offers a vast range of items, both in terms of appearance and technical and structure characteristics.
Vinyl floors, an optimal choice for hospital environments

Due to its properties, PVC is an optimal material for flooring in environments with controlled contamination and with high hygienic requirements. For instance, hospitals – even by law – must choose a resilient material, since the presence of joints and/or seams in the floor is not allowed, for obvious hygienic reasons.
In an environment at high risk of contamination such as hospitals, pharmaceutical or healthcare centres, hygiene is the priority when choosing a type of floor. PVC is among the best options because its smooth and compact surface, free of texture and seams, reduces the risk of bacterial retention and multiplication. Dirt and microbial contaminants cannot penetrate its resistant surface, which is therefore extremely easy to sanitize. There are no cracks and joints in which dirt can settle.
This means that, even in very busy environments, the floor is washable even with products that are not excessively aggressive, with excellent results in terms of hygiene.
In any case, due to their composition, vinyl floors also withstand contact with rather aggressive chemicals. In the event of any cuts or damage caused by the fall of sharp objects or dripping of chemical agents, the integrity of the floor can be easily restored by 'patching' the damaged area with a layer of PVC identical to the one laid. It's sufficient to weld the seam that is created so that the continuity of the surface is not interrupted.
But the safe nature of this type of floor doesn't lie only in its hygiene: modern PVC floors are optimized to reduce emissions of volatile gases into the environment, and even the fire response (in the unfortunate event of a fire) is excellent. Therefore, vinyl floors are safe when they are being installed and throughout their lifespan for those who live, work and move in the environments in which they have been placed.
Resistant and comforting PVC flooring
Among the feature that make PVC an excellent material for cleanrooms is resistance, which allows it to maintain its properties unchanged over time, even after intense use The wide variety of vinyl floors offered by Delta2000, allows you to choose the type of material that best suits the way the room is used. For example, for corridors subject to really intense use (due to the passage of stretchers or trolleys for instance) or for environments where heavy equipment is positioned, such as operating rooms, it's possible to opt for extra resistant versions, able to withstand a higher level of wear than normal
The resistance doesn't affect the comfort, an equally desirable quality in hospitals. A comfortable and wear-resistant floor like the PVC floor makes daily work less tiring. And the fact that it's non-slip makes it even safer for workers and professionals.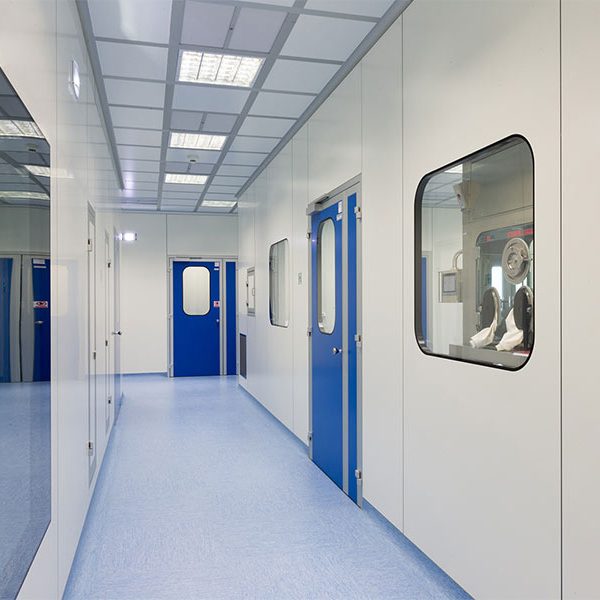 This type of floor contributes to improving the quality of life in the health sector thanks to its sound absorbing qualities. Noise can be annoying for patients and staff, disturbing the former in their convalescence and the latter in the work rhythm. It has been proven that stress related to excessive noise can even prolong healing times and induce work-related stress. PVC floors reduce the sound produced by walking and absorb the noise present in the environment. Depending on the area, different sound-absorbing performances may be required, which can be fulfilled by selecting the floor correctly.
Another very interesting property is that it's antistatic, which improves the safety and comfort of personnel, and on the other hand protects the expensive and delicate electronic equipment used for diagnostics or therapies from electrostatic variations that could compromise their use temporarily or even make them unusable. There are floors that can even emphasize this property and meet specific technical standards.
Vinyl floors are functional and attractive too
Pleasing to the eye. Not only in domestic environments or in public recreational environments, but even in hospitals it's important to try to combine respect for the functional characteristics required for these environments with an eye on the aesthetics. Il Vinyl is a material that is versatile, easy to cut into irregular shapes and offers infinite colour combinations, allowing architects to fully embrace their creativity for a satisfactory solution aesthetically as well as being functional.
The versatility of this material lends itself to creating shapes and decorations that are pleasing to the eye, but also useful. You can even opt for PVC solutions that mimic the most common flooring materials in the home, such as wood or stone, which can help make the environment less aseptic and more welcoming.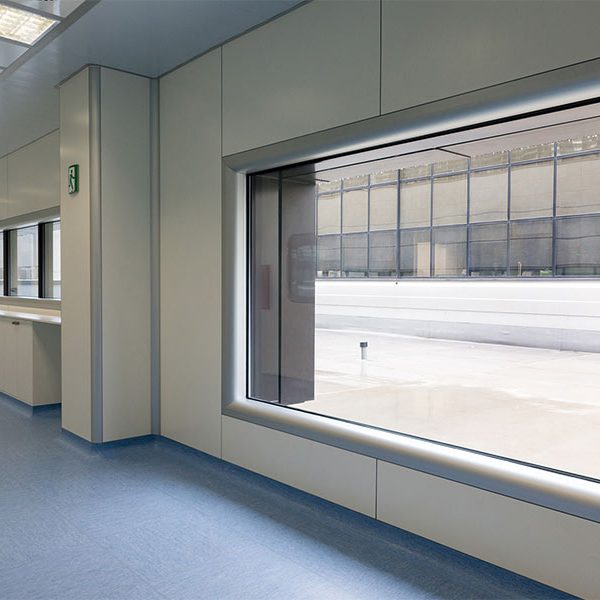 Epoxy resin floors for cleanrooms: the advantages of Biomedical and Food resin.
Epoxy resin is a very versatile product and is becoming an increasingly popular choice thanks to its high performance. It responds excellently to the specific needs of each sector, both in terms of performance and functionality and aesthetic appearance.
Available in multiple formulations and combinations, the epoxy resin floors produced by Delta2000 are the optimal solution to meet the high quality standards expected by customers. They guarantee chemical or wear resistance, conductivity or elasticity, easy sanitization and maintenance, durability, continuous and therefore hygienic surfaces, in accordance with the regulations in place in each specific sector.
Epoxy resin floors for cleanrooms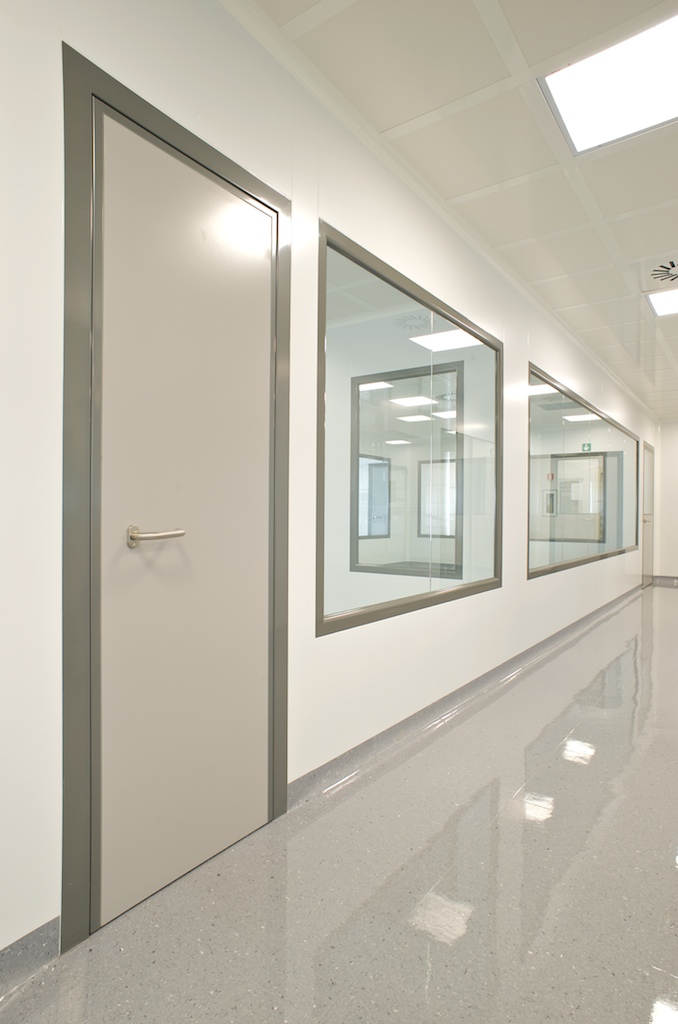 There are multiple advantages to using epoxy resin floors. Unlike other systems, epoxy resin floors for cleanrooms are made on site to form a monolithic structure, without joints or welds that could cause detachments or nesting points for dirt and mould. The surface will be smooth, suitable for easy decontamination with neutral or slightly alkaline detergents.
With Delta2000 systems, you can also cover old floors or subfloors, changing the intended use of the premises or carrying out renovations without demolishing the existing floor, with financial and environmental advantages.
Delta2000 epoxy resin floors for cleanrooms offer maximum guarantee and top certifications, in line with the high standards required by the food, pharmaceutical and cosmetic industries, or for all sectors in which industrial flooring has high technical, quality and use requirements.
Delta2000 manufactures DeltaFLOOR cleanroom floors using only proven systems with the highest industry certifications.
Epoxy resin floors for the pharmaceutical industry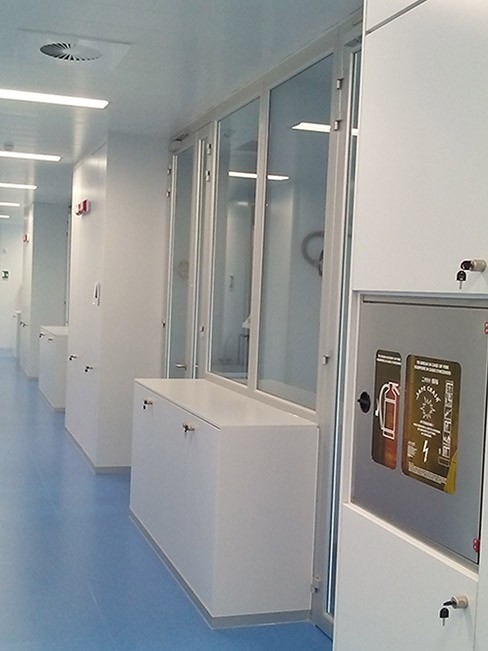 With technicians with over 20 years of experience in the field of flooring for sterile environments, Delta2000 is well aware of the problems and needs related to flooring for the pharmaceutical industry.
Maximum hygiene and cleanliness. These are the key words that rule over any pharmaceutical sector. It doesn't matter whether it's a production room, a cleanroom or a storage warehouse: the entire production chain must maintain extremely high hygiene standards, so that the pharmaceutical product is never in situations of possible contamination by dust, dirt and bacteria.
Thanks to state-of-the-art resinous products and to the experiences lived alongside established industries in the sector, Delta2000 epoxy resin floors for the pharmaceutical industry are:
Impermeable to liquids and oils,
Resistant both to the mechanical action of transit of forklifts, and to the chemical aggression of acidic and other substances,
Resistant to mould and bacteria,
Easy to clean using virtually any sanitizing detergent you can always keep the floor in good shape,
Safe, as they have good anti-slip characteristics even in the presence of liquids,
Monolithic. The joints are reduced to a minimum, to avoid areas where dirt and bacteria can accumulate.
Epoxy resin floors for the food industry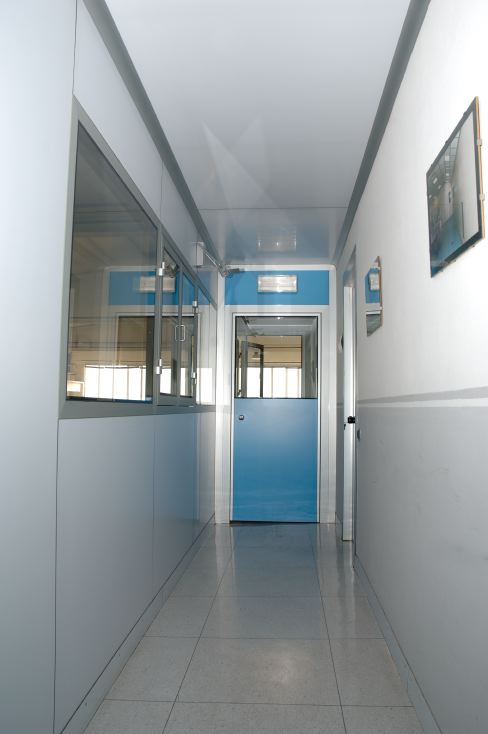 The increasingly strict hygiene rules have led Delta2000 to raise the quality standards of its food flooring, to fully meet all the needs of modern industries and to create high performance haccp floors.
In food companies, floors play a decisive role. Surfaces must have specific requirements to ensure food safety for the final consumer and a certain degree of non-slip to ensure the safety of operators. The hygiene of the environment as well as of the equipment used is essential for the guarantee of an effective and compliant service.
In particular, they must be continuous, without joints and grooves, robust, non-toxic, waterproof and, above all, easy to clean and sanitize. So, being easy to clean and resistant to frequent washing, are the two characteristics required of the flooring to ensure the products are safe and in compliance with regulations.
Therefore, as it's continuous and resistant to chemicals, epoxy resin is the ideal solution to perfectly clean any surface without fearing wear. In addition, thanks to the special anti-slip finish, it guarantees maximum safety for workers.
Are you interested in receiving information about our products?
Fill out the form and our Sales Team will be in touch as soon as possible.